1.Part
- 8 intensive Schlachten an verschiedenen Historischen Schauplätzen jeden Samstag Abend statt.
- 2 teamorientierte Armeen, die unter der Teamleitung des Teamleaders beschäftigt werden.
- Sie versuchen durch eine gute Strategie und Zusammenarbeit mit zum Erfolg zu kommen Honoriert mit Prämien für Ihre Leistungen.
- Der Server wird 100 Spielern Platz geben 50/50, bei bedarf geht bestimmt mehr.
- Tausch dich aus und Knüpfe neue Kontakte mit Spielern aus aller Welt!
- Neues Gameplay erwartet Euch
"Burning Sands", das benötigt ihr um dabei sein zu können :
Die Kampagne wird auf Basis von dem Spiel "Battlefield 1942" ausgetragen.
1.) BF 1942 Origin Download 1.612 (brauchst du nicht patchen):
http://store2.origin
...age.demos-de_DE
oder
BF 1942 CD Version:
2.) Patch 1.6 (Wenn ihr nur das BF 1942 SPiel habt ohne x-packs):
http://www.4players
....field_1942.html
Patch 1.61b (Wenn du die Anthology hast reicht der Patch):
http://www.4players
...._16_-_161b.html
Forgotten Hope 0.7 (3 Parts):
http://www.bf-games.net/downloads/category/45/forgotten-hope.html
Und zuletzt die FHT Forgotten Hope Tunier Mod:
http://www.moddb.com/mods/forgotten-honor-mod/downloads/forgotten-honor-forgotten-hope-expansion-08
2.Part
Wenn ihr noch Zeit und Lust habt schaut mal beim FHSW wikia vorbei.
Dort steht zum Besipiel drin, dass die nächste kommende FHSW Version 0.55 heißen wird.
Die Mod hat Rund 700 unterschiedliche Fahrzeuge zu bieten, welches neue Spiel hält da mit?
Du musst nichts freischalten.
Zu euren Lieblings Fahrzeugen und Waffen stehen erklärungen dabei, mit den passenden Bildern.
Visit FHSW wiki: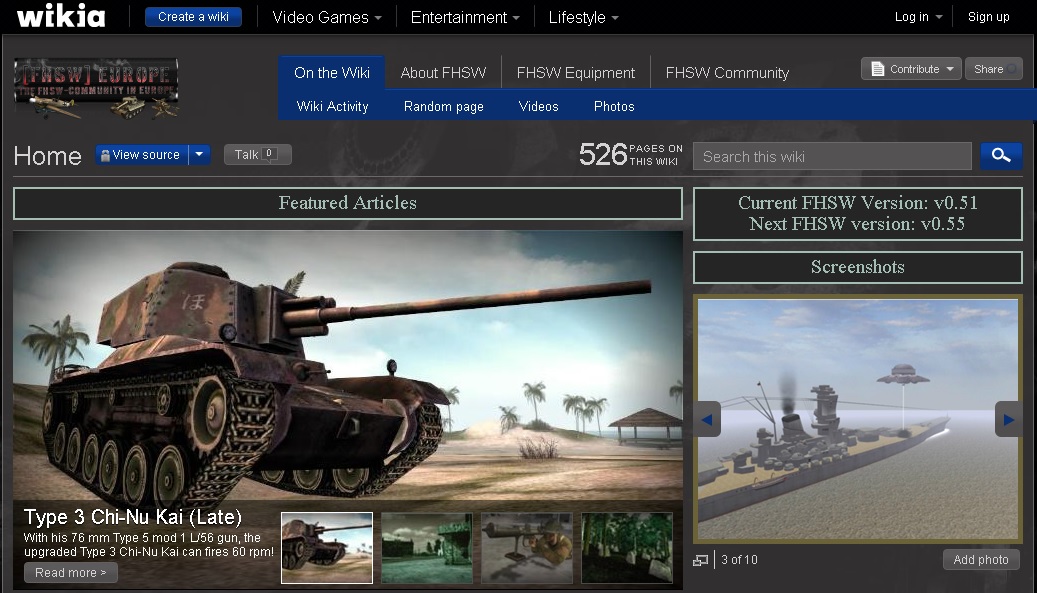 Source: Moddb.com
Die Events finden immer Sonntags statt, manchmal auch Samstags, je nach Zulauf!
Play start/Maps:
Sunday, September 1st
20:00 PM CET o'clock
01/09/1939 Fall Weiß
09/1939 Eastern Blitz
07/12/1939 Suomussalmi
13/05/1940 FHT Dinant
02/06/1940 FHT The Breaking Point
10/07/1940 Battle of Britain
Denkt daran, auf dem FHSW Server können CD Spieler und BF 1942 Origin Spieler zusammen spielen.
FHSW Download and install Tutorial:
http://www.moddb.com/mods/forgotten-hope-secret-weapon/tutorials/installation-guide-for-fhsw
FHT Original invite and English Language:
http://www.forgottenhonor.com/modules.php?name=Forums&file=viewtopic&t=57317
BF 1942 Origin install step by step Tutorial:
http://www.forgottenhonor.com/modules.php?name=Forums&file=viewtopic&t=57477